Join our VIP members group and get access to all predictions and jackpot games !
How to Become a Paid Member
2:
If you don't have an account, please
Register
and fill up the
Membership form
.
We will check your payment details and activate your membership. We will inform you when we're done.
To Access Soccer Predictions for Paid Members.
Please
LOGIN
with your username and password and visit
FOR MEMBERS
page on the menu for the predictions.
PAYMENT METHODS
select to pay
INTERNATIONAL
P.S. In order to have seamless transaction for International payment methods, do not use our Play Store app for paying, please visit our site through the web browser on your phone or computer and then pay.
CAMEROON – CÔTE D'IVOIRE – MALI – MAURITIUS – SENEGAL – GABON – BURKINA FASO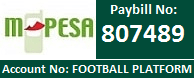 First, pay the membership fee; then, fill up the membership form.
---